Christ Renews His Parish (CHRP) Ministry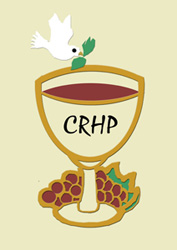 Christ Renews His Parish or CRHP (pronounced "chirp") is a spiritual renewal process, which brings adult parishioners together in small groups in order to deepen their relationship with Christ and each other.

These weekend retreats are hosted and conducted by parish members, who have been through the CRHP process.

CRHP is an effective and powerful faith renewal retreat that calls together the members of our parish in order to share their faith journeys and personal experiences in our Christian community.

Consider attending the next CRHP Weekend in 2018 —
Women's CRHP weekend will be April 14th and 15th, 2018.
Men's CRHP weekend TBD.
To register please complete the

Registration Form

(Women's Retreat)

or

(Men's Retreat)

or for additional information feel free to contact the Parish Office (244-4709) for the Women's and Men's Retreat information and current team coordinators.

Sacraments are an integral part of the weekend. There will be an opportunity to go to confession, and the weekend will conclude with a private Mass. All experiences shared on the weekend are confidential, unless otherwise expressed by the participants.

Who May Attend?
All are welcome! Christ Renews His Parish is for anyone seeking spiritual renewal. Even those with a strong faith and spiritual life benefit from attending CRHP, though you do not have to be a spiritual person to attend. In fact, many people attend because they are not as spiritual as they would like. Many attend because they feel something is missing from their lives. All participants are welcomed and receive unconditional acceptance. CRHP is an excellent opportunity for those who have stopped attending Mass or who have lost interest in the church to reconnect with the Parish Family.

Where and When is the Retreat Held?
The women's and men's weekends take place twice each year. The renewal weekends are held at St. Anthony's. Group meetings and discussions are held in the school with meals served in the parish hall. Sleeping accommodations are provided in the school, though you may leave at night to go home, if necessary.

How Long Does the Retreat Last?
The weekend typically begins early Saturday morning and lasts until approximately mid-Sunday afternoon.

What Should I Wear?
There is no dress code. Wear what you like. Comfortable, casual clothes make for a more relaxed weekend.

What Should I Bring?
Air mattresses are provided. Feel free to bring a sleeping bag. Any personal items (razors, toothpaste, etc.) you will need. Notepads, pens and scripture needs are provided, as are tissues during the cold seasons of spring and fall. Refreshments are available within the meeting room throughout the day during the many breaks, including coffee, tea, water, soft drinks and snacks.

What About Meals?
You will be pampered with great meals while on the weekend. If you have special diet requirements, please let us know when you register and every attempt will be made to accommodate your needs.

How Much Does it Cost?
There is no charge for attending the weekend! The weekend is put on by previous members of the CRHP program and St. Anthony's in hopes of bettering our community through a renewal in our faith. If you feel inclined, donations are accepted at the end of the weekend to help continue the program (though there is no request made for such).

So What About You?
If you've read this far, you must be at least a little bit interested. As previous weekend attendees and team members, we can assure you that it's powerful stuff. It's a lot of fun, and a great opportunity to form meaningful and lasting friendships.